The crowd began gathering before sunrise, with some coming to mourn the death of Sinéad O'Connor, while others came to celebrate her life, and everyone gathered to bid her farewell.
By midday on Tuesday, thousands of people were lining the seafront in Bray, the County Wicklow town where the Irish singer had resided, to greet the funeral procession.
Police motorcycles cleared the way for a van equipped with speakers that played the song "Natural Mystic" by Bob Marley & The Wailers. The hearse, adorned with flowers thrown by the crowd, followed suit. Vehicles carrying O'Connor's relatives followed behind.
As the procession neared O'Connor's former home, the crowd burst into applause. People sang "Nothing Compares 2 U" and held up banners with messages like "Thanks Sinéad. Rest in power." and "When words fail, music speaks."
The scene was filled with candles, poems, tears, and smiles, creating a heartfelt tribute in the sunshine for a unique, ethereal voice that had sung and spoken about love and darkness.
Prior to this, Umar al-Qadri, the chief imam at the Islamic Centre of Ireland, led prayers at a private funeral service.
"Just as Sinéad O'Connor brought diverse souls together through her art, so have you orchestrated a symphony of unity during her final journey," he addressed the mourners. After converting to Islam, O'Connor had adopted the Muslim name Shuhada' Sadaqat.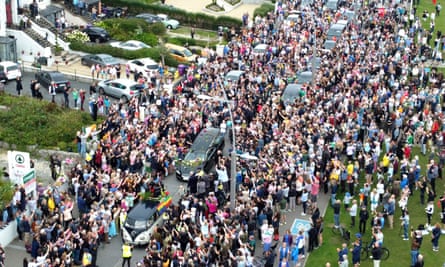 Sinéad O'Connor was found unresponsive in a flat in south London on July 26, triggering an outpouring of grief and tributes worldwide. She was 56 years old, and the exact cause of her death remains unclear.
Irish President Michael D Higgins and his wife Sabina attended the funeral service, acknowledging the profound impact O'Connor had on the Irish people. Her family invited the public to pay their final respects on the Bray seafront, located south of Dublin, where she had lived for 15 years. The family's procession aimed to acknowledge the love and support she had received from the people of Co Wicklow and beyond since her passing.
Local cafes played her songs on loop, filling the air with her music along the promenade. Notably, Irish singers Bono and Bob Geldof were reportedly present among the crowd.
Gemma Byrne, 47, along with three friends, held a banner that expressed gratitude: "Thank you Sinéad." Byrne shared how O'Connor's music resonated with her and her friends as they grew up. She admired O'Connor for speaking out about things they felt but lacked the courage to express, noting that O'Connor faced backlash for it.
Christine Joyce, 54, O'Connor's friend, reflected on how the singer's music was unforgettable and how she fearlessly addressed issues like clerical sexual abuse and women's health matters like menopause and hysterectomies. Joyce expressed strong emotion, particularly recalling the moment she heard O'Connor sing "Molly Malone" on the radio, leading her to tears.
The passing of Sinéad O'Connor marked the end of a trailblazing artist's life who left a lasting impact on music, social issues, and the lives of many.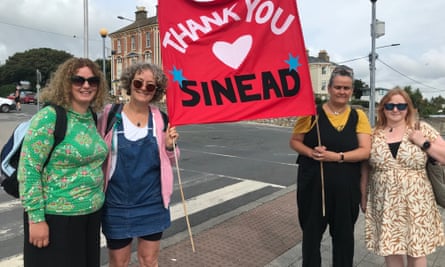 Mourners at the funeral shared personal stories of their connections to Sinéad O'Connor. Teresa Haynes, 75, spoke about how her daughter was mesmerized by O'Connor when she saw her on TV at the age of six. Her daughter, Tess, who tragically took her own life four years ago, remained captivated by O'Connor's presence. For Teresa, being at the Bray seafront was a tribute to both O'Connor and her daughter.
Rosita Stripinene, 50, from Lithuania, recounted the impact O'Connor had on her as one of the first foreign singers she saw while living in the Soviet Union around 1990. She described the beauty and allure of O'Connor's eyes, which left a lasting impression on her during her childhood.
O'Connor's relationship with fame and stardom was complex. Despite achieving massive success with her hit "Nothing Compares 2 U," she struggled with mental health issues and a tumultuous private life. Bray became a refuge of sorts for her, offering a sanctuary away from the spotlight where she could find some solace. Her passing marked the end of a journey that was marked by both triumphs and challenges.